| | |
| --- | --- |
| Posted on May 18, 2017 at 3:00 PM | |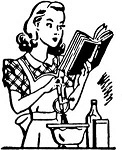 "Bring order to the mayhem of mealtime". This was on my mile long TO DO list. Because it never had a due date, it stayed on that list, unfinished, for years (seriously). It was not until I put it on my calendar as an action item, that it was finally accomplished. There were several goals: healthier meals for my family, less stress about WHAT to make, fewer trips to the grocery store, save money, eat out less, utilize leftovers more.
My first action was to purchase two identical packages of clear, glass food storage containers. Easier to see what is in the refrigerator, they stack easily, are more attractive and safer than plastic. The plastic food containers were then donated.
The second action was to write down all the meals that my family found delicious over the next month or so (either homemade or restaurant). Once I had 12 to 15, I had the beginnings of a three-week rotating menu. I got this idea from my childrens preschool, where they rotated 15 lunches that the kids would actually eat.
My next action was to arrange the meals so that leftovers from a bigger Sunday dinner, like baked chicken, could be used on Tuesday for chicken tacos. For each week of meals, I then created a full shopping list. I bought a pretty cloth binder and filled it with: the three-week rotating menu, a plastic sleeve with several copies of each weeks shopping list, restaurant menus for the one night a week that was left open.
Every Sunday we pull out the grocery list for that week: A, B, or C. We quickly go through the refrigerator and pantry, crossing off the items we already have in stock. Then one grocery trip for the week. Everyone in the household knows what is planned for dinner each night and can start or prepare dinner according to our availability.
The result is priceless! I only wish that I had put it on my calendar and accomplished it many years ago. Like I say to my clients, let us celebrate that it is DONE now, rather than fret over how long it took to get there.