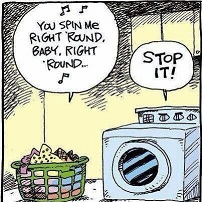 Clothing strewn across the floor in the bedroom, bathroom, closet; across the living room furniture or the dining room table. Piles of clothes and overflowing baskets from the basement to the bedrooms. With many of my clients, I have had to broach the dirty problem of laundry issues.
One client had clothing strewn across the dining room on the first floor of her home. She explained to me that dirty laundry had made its way from the second-floor bedrooms. She planned to sort it here and take each load to the basement for washing. A few baskets of clean laundry had been brought up so she could use the dining room table for folding. The process had been interrupted by several days and it was now difficult to tell the clean from the dirty. Her suggested solution was to start over and wash it all.
Another client, a preteen dressed for school right in front of her closet. If the leggings she had thrown on were too small, they came off and were left on the floor. A t-shirt, a hand-me-down from the older sibling, is too big. That ends up on the floor as well. At the end of the day, she changes into pajamas in the same spot, with the day's clothing added to the pile. Eventually mom scoops up everything – washes, folds and returns it all to the daughter's closet – for the cycle to start all over again.
Time to stop and really think about whether you have laundry problems. What are the road blocks? A few of the many solutions that I have implemented:
• Purchased laundry hampers for every bedroom
• Relocated the washer and dryer to the same floor as the bedrooms
• Purged dressers and closets so it is easier to put clean clothing away
• Moved clothing that doesn't fit to another space or donated
• Removed all the empty hangers taking up space in the closet
• Placed a box in every bedroom closet. Clearly mark it 'Donations"
• Assigned each roommate a specific day to complete their own laundry
• Replaced dressers with cubbies for individuals that are more visual
• etc. etc. etc.