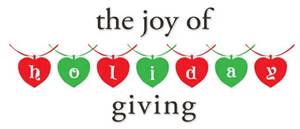 As a Professional Organizer about 20% of my work is actual organizing. The first 80% is often helping clients make decisions about their stuff. What do they use and love; and what to do with the rest? Most clients have 'never used' items - doesn't fit, don't care for it, what is it anyway? And yet it is kept because 'it was a gift'. Folks feel obliged to hold onto a gift, even if they don't need it, use it, or love it.
As the gift giving season approaches, might I suggest we stop and rethink our gift giving ways? You can either approach the holidays by hurling yourself into the closest megamall, clutching your list and credit card, wearing a strained look of determination, or start by sitting down in a sunny spot with a warm beverage, delightful snack, list of gift recipients, a pen and the following list of ideas.
With a gift, our intent is to let people know we love, appreciate, or care about them. We all could benefit (especially in this tough economy) from giving and receiving exactly what is needed/used/loved. That gift could be a homemade coupon for trading a talent or energy, a gift of a special treat or learning experience, and there is nothing wrong with a very thoughtful gift certificate.
Keep the 'No Clutter' theme in mind as you start noting gift ideas next to each loved one. As you read each idea think about giving and receiving. Most folks appreciate receiving helpful gift ideas for what you need/use/love. No one wants to spend money on a gift that becomes someone else's clutter.
Relax and let your creative juices flow…
Trade talents and energy
• Make food and stock a freezer for a pregnant niece, an elderly uncle, or someone with an upcoming surgery.
• Run errands for a busy or housebound relative, friend or neighbor.
• For someone who loves shopping or hiking or (fill in the blank), pack a picnic and spend a day with them doing their favorite pastime.
• Kid-sit so a mom can have a day all to herself. Gift it early so she can do her holiday errands without hassle.
• Offer to cook and/or clean up at the next party of someone that loves to entertain.
• Teach word processing skills, like mail merge, to the sister that struggles with her family holiday letter every year.
• You have a green thumb and your friend has pretty planters standing empty. Ask if you can fill them with low maintenance houseplants for her.
• Ask a tech savvy nephew to teach you how best to use your smart phone, iPad or social media.
• Know someone that has all the equipment needed to transfer your favorite music from LP or cassette tape to DVD or digital? Or how about old movies or slides to digital?
• Ask Auntie to make you one of her amazing pies for your next dinner party. If she is very generous, how about a pie-a-month, all year long?
The Gift of Experiences
• Creative person – paint pottery at The Clayroom or painting, drawing, photography classes at Mystic Arts Center, glass-blowing, stained glass, caning chairs, etc.
• Future Scientist – Mad Science day camp or birthday party
• Harried couple – dinner, evening or weekend at Stonecroft Country Inn or Bee and Thistle Inn and Spa, or any of the other fabulous SECT locales
• Aspiring Chef – A one-day class in the kitchen at Culinary Institute of America, only 3 hours from SECT
• Sports enthusiast – classes in archery, golf, tennis, etc.
• Music lover – instruction in drumming, piano, guitar, on and on.
• Youth adventurer – sleep away or day camps like Camp Hazen in Chester or trapeze or circus camp
• Walking buff – a gift of a walking tour from haunting CT Walking Tours, to architecture New England Curiosities, to history the Freedom Trail.
• Busy moms that give and give – a day at the spa or simply a massage, manicure and pedicure just for her.
• Entire Family – Annual pass to the local zoo, aquarium, seaport, children's museum or science museum. Gift cards for Family fun centers, theme parks, national park passes.
Consumables
There is nothing wrong with a very thoughtful gift that the recipient can 'use up' rather than put on a shelf.
• Grandma who still sends notes – Stationary, postage stamps and a wall calendar. Consider pre-filling the relatives' birthdays and anniversary dates for her!
• Music lover – downloads for an Ipod.
• Car lover – a booklet of car washes starts at $39.95 Rapid Car Wash in New London
• Teenagers on the move – Gift certificates for Skiing, rock climbing walls, movie/concert passes, gasoline cards.
• Teenagers that just move their thumbs – Find out what system they have and then gift cards like Xbox live gold gift cards from Game Stop
• For the community minded – a gift in their name. Locally Gemma Moran Food Center or globally Heifer International. You can use this as a tax deduction if you give to a recognized 501©(3) not-for-profit organization (check status at irs.gov/app/pub-78), itemize when you file your taxes and keep documentation.
• A basket of 'yummies' to have on hand for a quiet winter night in front of the fire or for unexpected guests that drop in.
Shop at Home First
All year long as you look into the nooks and crannies of your home, pull out any items that you have never used and put them aside in a bin. When looking for the perfect gift for the holidays or during the year – birthday of a coworker, hostess gift, etc. Shop in the bin first, you'll be surprised what you already have:
• Beautiful picture frame – just add a special picture or favorite quote and give it as a gift.
• 'Like new' favorite children's book or movie – pass it on to your nephew's kids.
• Hysterical cocktail napkins in the wrapper – gift to your entertaining brother-in-law.
• Funny 'old fart' hat you received for your 50th
• Lovely scented candle that makes you sneeze but your scent loving girlfriend would appreciate
• Pretty wind chime that only made your neighbor complain
• Bottle of wine – you don't drink but your uncle with the wine cellar would love!
Smart Gift Requests
After you've been through the list, keep your notes with you. When someone asks what you would like to receive have an answer ready for them. Consider those everyday items that are a bit aged and could be replaced, but we often don't take the time or money to treat ourselves:
• plush robe
• lovely flannel bed sheets
• fluffy bath towels
• anything you love, use all the time, but it is starting to look worn out
• and what kitchen couldn't use some fresh dish towels and cloths?
If all else fails, give a gift certificate "For Peace of Mind". The recipient will get help with any space in their life that frustrates them the most – from attic to basement, closets, time and paper management, etc. Call Sandra Wheeler at (860) 608-0451 or send an e-mail to forpeaceofmind@sbcglobal.net.
I wish for you a stress-free, thoughtful, Gift Giving Holiday Season!